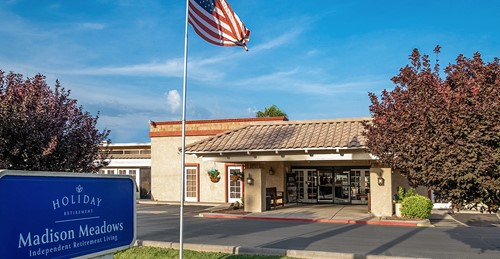 7211 N 7th St
Phoenix, AZ 85020

Overview
Madison Meadows is located in a historic citrus neighborhood, and offers a heated pool and spa nestled in fruit trees. The Phoenix senior living community is near the John C. Lincoln Medical Center and shopping at Christown Spectrum. Local attractions include the Phoenix Zoo, Desert Botanical Garden and Arizona Science Center.

The elegant campus features natural lighting, spacious social rooms and a tranquil courtyard. Each day offers excitement, thanks to chef-prepared meals and a rich activity calendar. Whether playing bean bag baseball, doing tai chi or sewing, you'll feel at peace. Outside, the creek and walking path is shaded by orange and grapefruit trees, and guests are treated to picnics in the gazebo and water aerobics in the pool. Plan your visit today.

Your safety and wellbeing are always a top priority, that's why a Lively Mobile Plus personal alert device is included in your lease. This device gives you and your family members the peace of mind that emergency help is just the push of a button away. Both inside the community and anywhere in the United States you may roam.
Show All
Services Offered
Room Types
Studio
One Bedroom
Two Bedroom
Amenities
Cable
Wi-Fi
Kitchenettes
Meal Preparation and Service
Outdoor Space
Dining Room
Media / Activities Room
Beauty Salon
Fitness Center
Chapel / Religious Services
Library
Transportation to Doctors Appointments
Scheduled Transportation (non-medical related)
Laundry
Housekeeping and Linen Services
Community-Sponsored Activities
Guest Housing
Garage / Covered parking
Pet Friendly
There are no existing reviews for this provider
Map View