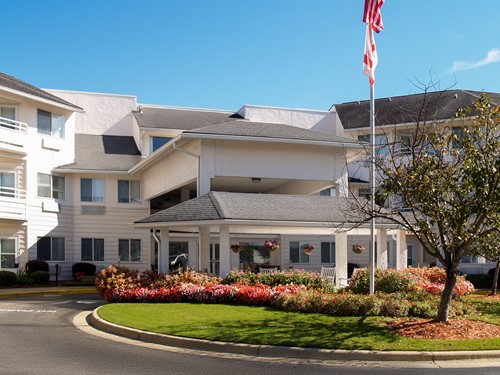 5801 Eastdale Dr
Montgomery, AL 36117

Overview
Eastdale Estates is located in a rich cultural and historical center. The East Montgomery senior living community is minutes from downtown and central to the Alabama Hospital Association and Eastdale Mall. If you're in the mood to explore, visit the Alabama State Capitol, Civil Rights Memorial or Montgomery Museum of Fine Arts.

Guests are warmly greeted in the stately library, game room and parlors. Enjoy active or relaxing days with the adult coloring club, nature walkers, trivia group and more. At meals, gather with family and friends in the community dining room for a chef-prepared feast, then sip coffee in the lush outdoor gazebo. We're a community that feels more like family at Eastdale Estates. You'll wish you'd come sooner. Call to schedule a visit.

Your safety and wellbeing are always a top priority, that's why a Lively Mobile Plus personal alert device is included in your lease. This device gives you and your family members the peace of mind that emergency help is just the push of a button away. Both inside the community and anywhere in the United States you may roam.
Show All
Services Offered
Room Types
Studio
One Bedroom
Two Bedroom
Amenities
Cable
Telephone
Wi-Fi
Kitchenettes
Meal Preparation and Service
Outdoor Space
Dining Room
Media / Activities Room
Beauty Salon
Fitness Center
Library
Transportation to Doctors Appointments
Scheduled Transportation (non-medical related)
Laundry
Housekeeping and Linen Services
Community-Sponsored Activities
Guest Housing
Pet Friendly
There are no existing reviews for this provider
Map View