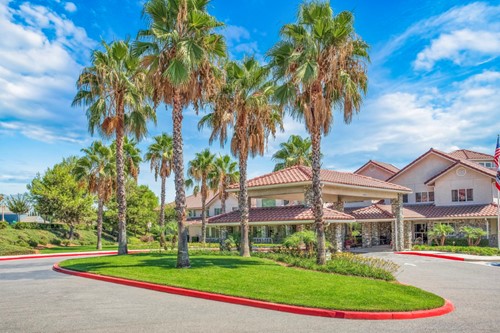 6729 Hermosa Ave
Rancho Cucamonga, CA 91701

Overview
Valencia Commons is built into the foothills of the San Gabriel Mountains. The Rancho Cucamonga senior living community is 35 minutes from Riverside and central to Kindred Hospital and shopping at Victoria Gardens. Local attractions include the March Field Air Museum, San Manuel Amphitheater and Riverside Metropolitan Museum.

The community is lively, offering a range of social activities. Meet friends for bean bag baseball, crafts or day trips around the region. Gather for chef-prepared meals in the community dining room, and entertain family in the media room, billiards lounge and community rooms. Hermosa Park is directly across the street when your pet needs walking. There's so much to discover at Valencia Commons, you simply have to feel it for yourself. Visit today.

Your safety and wellbeing are always a top priority, that's why a Lively Mobile Plus personal alert device is included in your lease. This device gives you and your family members the peace of mind that emergency help is just the push of a button away. Both inside the community and anywhere in the United States you may roam.
Show All
Services Offered
Room Types
Studio
One Bedroom
Two Bedroom
Three Bedroom
Amenities
Cable
Wi-Fi
Kitchenettes
Meal Preparation and Service
Outdoor Space
Dining Room
Media / Activities Room
Beauty Salon
Fitness Center
Chapel / Religious Services
Library
Transportation to Doctors Appointments
Scheduled Transportation (non-medical related)
Laundry
Housekeeping and Linen Services
Community-Sponsored Activities
Guest Housing
Garage / Covered parking
Pet Friendly
There are no existing reviews for this provider
Map View