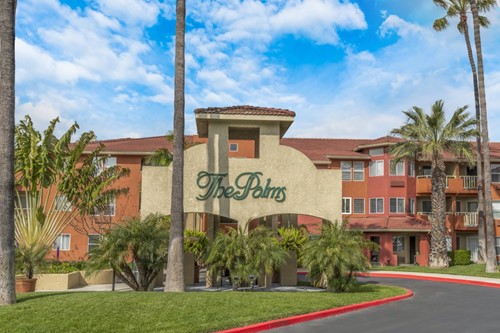 13001 La Mirada Blvd
La Mirada, CA 90638

Overview
Bathed in the southern California sun, The Palms is located in a quiet suburb of Los Angeles. The La Mirada senior living community is 30 minutes from the beach and attractions like Disneyland, Knott's Berry Farm and The Getty. Nearby conveniences include the Los Cerritos Center and Kindred Hospital.

The community spirit is welcoming at The Palms. You'll make lasting friendships around the table while dining on chef-prepared meals and discovering lifelong hobbies. A regal billiards lounge, media room and parlors host activities like live music, bridge, happy hours and social events. Outside, soak up the cheerful campus atmosphere while strolling to the butterfly garden. Whether you're looking for a California adventure or relaxation, you'll find it. Visit today.

Your safety and wellbeing are always a top priority, that's why a Lively Mobile Plus personal alert device is included in your lease. This device gives you and your family members the peace of mind that emergency help is just the push of a button away. Both inside the community and anywhere in the United States you may roam.
Show All
Services Offered
Room Types
Studio
One Bedroom
Two Bedroom
Amenities
Cable
Wi-Fi
Kitchenettes
Meal Preparation and Service
Outdoor Space
Dining Room
Media / Activities Room
Beauty Salon
Fitness Center
Swimming Pool
Chapel / Religious Services
Library
Transportation to Doctors Appointments
Scheduled Transportation (non-medical related)
Laundry
Housekeeping and Linen Services
Community-Sponsored Activities
Guest Housing
Pet Friendly
There are no existing reviews for this provider
Map View